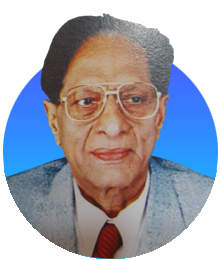 Dr. R.P. Singh
Founder
1931 - 2015
ABOUT THE FOUNDER
Dr. R.P. Singh Born in Surjpura,Karjan Village , Athmalgola, Barh, Patna. Dr. Rajeshwar Prasad Singh had his early education at Athmalgola Middle School and passed his Matriculation from Shivani High School. Later On he did his intermediate from Patna Science College in the year 1948. There after, he did his Bachelor of Dental Surgery from Dr. R. Ahmad Dental College & Hospital, Calcutta in the year 1957. He was awarded Master of Dental Surgery in Prosthodontics from Govt. Dental College, Bombay in year 1966. He began his teaching career from Patna Dental College & Hospital (1960-1989). He served as Principal of PDCH from year 1976-1989. He was the first dental graduate and post graduate in the state of Bihar.
He was awarded Dr. Bidhan Chandra Roy National Award in 1985 for his valuable contribution towards the field of dentistry, by the then Prime Minister of India. He was also awarded with ATIVISHISHT CHIKITSA MEDAL in 1995.
He was President of Dental Council of India from Year 1984-1986. He was the first Dental Faculty to serve as a Dean Faculty of Medicine, Patna University (1983-1985).
He had served many administrative posts in Govt of Bihar, as Dental Advisor, Controller of Examination Health Services, Chairman for Conducting Pre-Medical & Pre-Dental Admission Tests.
A man of integrity and strong value Dr. R.P. Singh, after retirement from Govt. Service served as Director of Buddha Institute of Dental Sciences & Hospital till end of his life.
After a distinguished career, and he relentlessly worked for the upliftment and empowerment of the rural people, Dr. R.P. Singh passed away on 2nd December 2015.